escription lay


District 01S Division 11 Flotilla 02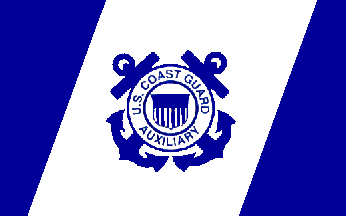 Vessel Safety Check
formerly known as a CME - Courtesy Marine Exam
The contents of this page can be used by YOU to perform an examination of your own boat.
We are also providing you with a link to the actual form that we use when doing this public service for you. You will see that most of the areas we cover can be easily reviewed by you, the boat owner, to ensure a safe boating experience.
At anytime, please feel free to contact us to come and offer you a courtesy examination and a Decal to show compliance.

We suggest you print this form and use it as a guide while performing this self-inspection. (You can get the form here by clicking on the VSC Image below this paragraph - it is the 'seal' on the right side. If you don't have Adobe Acrobat Reader, you can download and install this free utility by clicking on the link below, to the left.)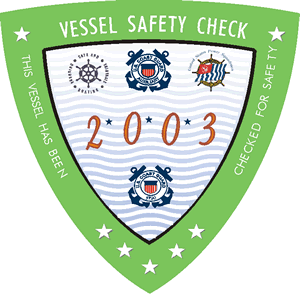 After you have completed the self-examination, or, at anytime, you can request that one of our examiners perform an actual Vessel Safety Check and receive a Decal showing compliance.

Please click this image to make REQUEST.



Whether your vessel meets our standards of safety or not is confidential. These are not reported to any legal authority.
They are aimed at increasing public awareness and safety for boaters. Please call us to request this courtesy exam, or, if you have any questions. Click here to do so by E-Mail
Non-Motorized boat requirements, please click here.

The following guidelines are based on Federal Requirements. States may have additional requirements that must be followed.
For NYS rules, please see the virtual New York State Boater's Guide. This booklet has an abundant amount of information in it pertaining to many aspects of boating. You may also contact them for a hard copy of it.
An excerpt of the MINIMUM Requirements can be seen here.

The Vessel Safety Check (VSC) Program actively promotes boating safety by using trained Auxiliary volunteers to educate the boater through a direct, face-to-face boating safety information exchange with the owner or operator. Our member provides instructions on equipment to be carried on board and other matters affecting safety, federal and local equipment regulations, and VSC requirements are explained as well as other matters of interest.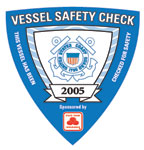 The VSC is performed mainly on recreational boats 65 feet in length or less and on certain commercial vessels which are not inspected or certified by the Coast Guard. VSC requirements parallel and sometimes exceed federal regulations with regard to equipment and condition of safety where such matters are within the direct personal control of the boat's owner/operator.
The VSC is not a law enforcement action nor a 'boarding' by the Auxiliary. No official report is made to any law enforcement agency or authority, and likewise, no citations are given. The VSC is performed only with the specific consent of the owner/operator who is present at the time of the examination. We will supply you with a copy of our evaluation so that you may follow some of the suggestions given. Vessels that pass will be able to display our distinctive VSC decal. The VSC cannot circumvent the right of a federal, state or local boarding (but may lessen the chance of their acquaintance).
Items which a Vessel Examiner will request to see:
Owner's registration
Documentation papers*
Numbering
Personal Flotation Devices (PFDs)
Fire Extinguishers
Back Fire Flame Arresters*
Visual Distress Signals
Navigation Lights
Sound Producing Devices
Anchor and Anchor Line
Dewatering Devices
Capacity Plate
Hull Identification Number
Manufacturer's Certificate of Compliance
Garbage Dumping Restrictions Placard
Oily Waste Discharge Placard
Navigation Rules Book*
Marine Sanitation Devices*
Ventilation
Overall vessel condition, with Safety in mind
* Not all items apply to all boats.
Our Safety Checklist - more details

Item 1 - Display of Numbers:
The boat's registration number must be permanently attached to each side of the forward half of the boat They must be plain, vertical, block characters, not less than three (3) inches high, and in a color contrasting with the background. A space or hyphen must separate the letters from the numbers. Place State tax sticker according to State policy. (e.g. FL 1234 AB or FL-1234-AB)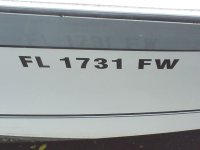 Item 2 - Registration / Documentation:
Registration or Documentation papers must be on board and available. Documentation numbers must be permanently marked on a visible part of the interior structure. The documented boat's name and hailing port must be displayed on the exterior hull in letters not less than 4 inches in height. To be documented a boat must be 5 net tons or greater.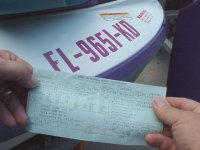 Item 3 - Personal Floatation Devices (PFD):
Acceptable PFDs (also known as Life Jackets) must be U.S. Coast Guard approved, in good serviceable condition, and of suitable size for the each person on the boat. Children must have properly fitted PFDs designed for children. Wearable PFDs shall be "readily accessible." Throwable (Type IV) devices shall be "immediately available." PFDs shall NOT be stored in unopened plastic packaging. For Personal Watercraft riders, the PFD must be worn and indicate an impact rating. Boats 16 Feet or longer, must also have one Type IV.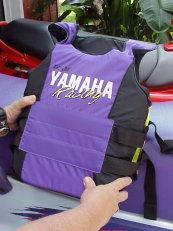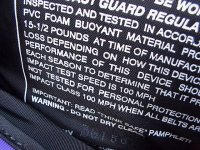 Item 4 - Visual Distress Signals (VDS):
Recreational boats 16 feet and over used on coastal waters or the Great Lakes are required to carry a minimum of either 1) three day and three night pyrotechnic devices, 2) one day non-pyrotechnic device (flag) and one night non-pyrotechnic device (auto SOS light) or 3) a combination of 1) and 2). Recreational boats less than 16 feet on coastal waters or the Great Lakes need only carry night visual distress signals when operating from sunset to sunrise.

It is recommended, but not required, that boats operating on inland waters should have some means of making a suitable day and night distress signal. The number and type of signals is best judged by considering conditions under which the boat will be operating. Alternatives to pyrotechnic devices (flares) include:

Night Time Use: Strobe Light, Flashlight, Lantern.
Day Time Use: Signal Mirror, Red or Orange flags, Hand signals.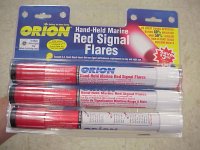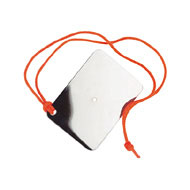 Item 5 - Fire Extinguishers: Fire extinguishers are required if one of the following conditions exists: (1) Inboard engine(s); (2) Closed compartments that store portable fuel tanks; (3) Double bottom hulls not completely sealed or not completely filled with flotation materials (4) Closed living space (5) Closed stowage compartments that contain flammable materials or (6) Permanently installed fuel tanks NOTE: Fire extinguishers must be readily accessible and verified as serviceable.
Minimum number of extinguishers required:
| | | |
| --- | --- | --- |
| Boat Length | No Fixed System | With Fixed System |
| Less than 26' | One B-1 | None |
| 26' to less than 40' | Two B-1 or One B-2 | One B-1 |
| 40' to 65' | Three B-1 or One B-1 & One B-2 | Two B-1 or One B-2 |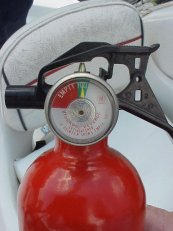 Item 6 - Ventilation:
Boats with gasoline engines in closed compartments, built after 1 August 1980 must have a powered ventilation system. Those built prior to that date must have natural or powered ventilation. Boats with closed fuel tank compartments built after 1 August 1978 must meet requirements by displaying a "certificate of compliance." Boats built before that date must have either natural or powered ventilation in the fuel tank compartment.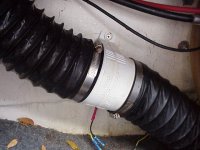 top
Item 7 - Backfire Flame Control:
All gasoline powered inboard/outboard or inboard motor boats must be equipped with a Coast Guard approved backfire flame control device.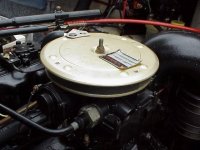 Item 8 - Sound Producing Devices / Bell:
To comply with Navigation Rules and for distress signaling purposes all boats must carry a sound producing device (whistle, horn, siren, etc.) capable of a 4-second blast audible for ½ mile. Boats larger than 39.4 ft. are also required to have a bell (see Navigation Rules.)



Item 9 - Navigation Lights:
All boats must be able to display navigation lights between sunset and sunrise and in conditions of reduced visibility. Boats 16 feet or more in length must have properly installed, working navigation lights and an all-around anchor light capable of being lit independently from the red/green/white "running" lights.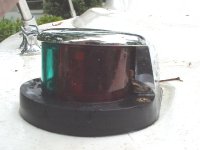 Item 10 - Pollution Placard:
Boats 26 feet and over with a machinery compartment must display an oily waste "pollution" placard.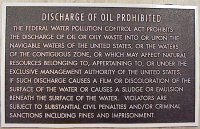 Item 11 - MARPOL Trash Placard:
Boats 26 feet and over in length must display a "MARPOL" trash placard. Boats 40 feet and over must also display a written trash disposal plan.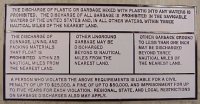 Item 12 - Marine Sanitation Devices:
Any installed toilet must be a Coast Guard approved device. Overboard discharge outlets must be capable of being sealed.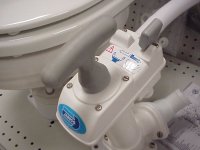 Top
Item 13 - Navigation Rules:
Boats 39.4 feet and over must have on board a current copy of the Navigation Rules.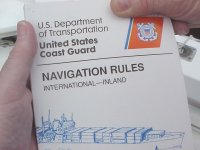 Click above to go to the page that will allow you to download the entirety of this document.

Item 14 - State and/ or Local Requirements:
These requirements must be met before the "Vessel Safety Check" decal can be awarded. A boat must meet the requirements of the state in which it is being examined.
Contact your local marine law enforcement agency.

Item 15 - Overall Vessel condition:
As it applies to this Vessel. Including, but not limited to:
A. Deck free of hazards and clean bilge:
The boat must be free from fire hazards, in good overall condition, with bilges reasonably clean and visible hull structure generally sound. The use of automobile parts on boat engines is not acceptable. The engine horsepower must not exceed that shown on the capacity plate.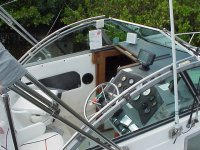 B. Safe Electrical and Fuel Systems:
The electrical system - Must be protected by fuses or manual reset circuit breakers. Switches and fuse panels must be protected from rain or water spray. Wiring must be in good condition, properly installed and with no exposed areas or deteriorated insulation. Batteries must be secured and terminals covered to prevent accidental arcing.. If installed, self-circling or kill switch mechanism must be in proper working order. All PWCs require an operating self circling or kill switch mechanism.
Fuel Systems - Portable fuel tanks (normally 7 gallon capacity or less) must be constructed of non-breakable material and free of corrosion and leaks. All vents must be capable of being closed. The tank must be secured and have a vapor-tight, leak-proof cap. Each permanent fuel tank must be properly ventilated.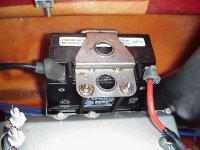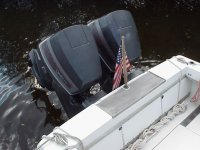 C. Safe Galley and Heating Systems:
System and fuel tanks must be properly secured with no flammable materials nearby.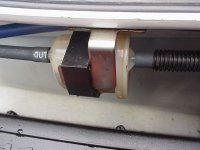 NOTE:
The above are the basic guidelines. The Coast Guard Auxiliary has more extensive resources for clarification purposes.
Classes of Fires ('D' not shown)

"A" is for combustible solids like wood.


"B" is for flammable liquids such as gasoline.


"C" is for electrical fires.
dd
Which extinguisher is best for which type of fire?
Type of Extinguisher
Class of Fire
Notes:

Carbon Dioxide
(C02)

B, C
Carbon Dioxide is a class B, C, agent only. Because of the CO2 high pressure, it is not recommended for use on Class A, amber and ash based fires. Why? Because of the hazard of spreading the fire when blasting it with the high pressure gas.

Halon
(until year 2000)
A, B, C
Halon 1211 carries the A, B, C rating only in a capacity of 9 pounds. Units smaller than 9 pounds only carry the B, C rating. Halon gas vaporizes to quickly to maintain a Class A fire in small quantities.

Dry Chemical
B, C
Dry chemical extinguishers come in three varieties. Sodium Bicarbonate B, C (Alkaline); Potassium Bicarbonate, Purple "K", B, C (Alkaline); and Mono Ammonium Phosphate A, B, C (Acidic). The A, B, C dry chemical is not recommended for marine use for two reasons:

It is corrosive
The way in which this agent obtains it class A rating is its ability to melt, seep and encase. This necessitates dismantling of equipment to repair or rebuild.


Foam
A, B
Foam extinguishers are water based and quench Class A fires. They also blanket, smother and separate the vapor layer in Class B fires.
All power boats, except outboards, under 26 feet and of open construction must carry one B-I, U. S. Coast Guard approved fire extinguisher.
All power boats 26 feet to less than 40 feet must carry two B-I or one B-II U. S. Coast Guard approved fire extinguishers.
40 feet to less than 65 feet must carry three B-I or one B-II and 1 B-I U. S. Coast Guard approved fire extinguishers..
Our friends at Boatsafe.com also have a nice presentation.
Does your boat have a Capacity Plate?


Parts of this page were written by Jay Gellman. Some graphics & charts are from www.Boatsafe.com We thank them.