Flotilla 11-02 meets at 1930 hours (7:30 PM) on the third Thursday of each month
at 2303 Bergen Ave. in Mill Basin (Millennium Developmental Ctr.)
The United States Coast Guard Auxiliary, often referred to as the "Civilian Arm of the Coast Guard", was established by Congress in June of 1939 (as the U.S. Coast Guard Reserve and re-designated as the Auxiliary in 1941). The initial mission was to assist the Coast Guard, promote safety and educate the boating public. As the war in Europe intensified, Congress, recognizing a need to properly guard our Coastlines, enacted a second bill in February of 1941. In addition to their peacetime boating duties, Auxiliarists became part of the Military Reserve. With the return of peace, the Auxiliary resumed its primary mission which continues to be Assisting the Coast Guard and Promoting Boating Safety Through Education. We are now part of the U.S. Department of Homeland Security.
Today, there are nearly 38,000 members from all walks of life in the 50 States and Puerto Rico. Members receive special training so that they may be a functional part of Team Coast Guard. Auxiliarists assist the Coast Guard in non-law enforcement programs such as Public Education, Vessel Safety Checks, Safety Patrols, Search and Rescue, Marine Environmental Protection and Coast Guard Academy Introduction Programs for youth. Auxiliarists volunteer more than 2 million hours annually to benefit other boaters.

"The United States Coast Guard Auxiliary is the uniformed, volunteer Component of Team Coast Guard who assist the active duty Coast Guard in all of its varied missions, except for military and direct law enforcement. These men and women can be found on the nation's waterways, in the air, in classrooms and on the dock, performing Maritime Domain Awareness patrols, safety patrols, vessel safety checks and public education."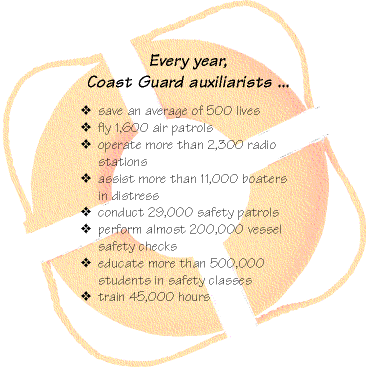 The Coast Guard Auxiliary is offering boaters and water enthusiasts four easy-to follow tips for those who want to resolve to be safer boaters this year:
Always wear your life jacket: Statistics show time and time again that many boating fatalities could have been avoided, simply by wearing a life jacket. Wear

ing

a life jacket while boating is like wearing a seat belt when driving or riding in a vehicle. Simply put, life jackets save lives! Resolve to wear one anytime you are on or near the water.
Be prepared - take a safe boating course: Most drivers were required to take some sort of driver's education course before getting their drivers license. Statistics show that 80 percent of those involved in boating fatalities never took a boating safety course. Knowledge is power, and that knowledge may help you be "SEMPER PARATUS" (the Coast Guard's motto, which means "always ready") and may in fact, save your life! Resolve to make this year the year you improve your boating safety knowledge and skills.
Get a free Vessel Safety Check: Boats that are properly equipped, in good operating condition, and are safe from hazards are less likely to be involved in a accidents and fatalities. Know before you go - request a a free Vessel Safety Check by visiting www.safetyseal.net, and clicking on "I WANT A VSC." Resolve to make sure your boat is a safe boat.
Avoid alcohol while on or near the water: Approximately 40 percent of all boating fatalities involve the use of alcohol. If you are drunk and get into an accident on the water, but are fortunate enough to survive, you will likely suffer financial and social consequences, such as large fines (similar to driving under the influence), and the loss of

automobile

driving privileges. But alcohol doesn't just impact the operator; passengers who have been imbibing are 10 times more likely to fall overboard and drown. Simply put, water and alcohol don't mix! Resolve to be a sober boater.
By following these four, easy-to-follow tips on how to stay safe on or around the water, the Coast Guard Auxiliary hope that you and your loved ones will enjoy 2007, and be around to make more New Years resolutions come next January.
Semper Paratus (Always Ready)