BOATING SAFETY - GETTING STARTED
The You're In Command Campaignís Key Messages of What You Can Do To Boat Safer is
Click The icons below for more information about each section

Get a Vessel Safety Check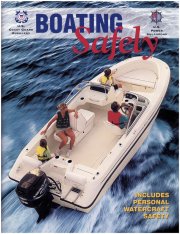 Take a Boating Safety Course


Wear Your Life Jacket


Donít Boat Under The Influence

Please see other pages within this website, including INFO, NYS/Fed rules, Fishing, etc.


Flotilla 11-02 accomplishments for 2006:
99 Mission Hours: 6,475
CG Admin Sup: 32
Safety Patrols: 43
VSCís: 259
MD Visits: 46
PE: 39
PA: 105
MT: 123
===================
Feb '07
COAST GUARD AUXILIARY PASSES RESOLUTION URGING
MANDATORY BOATING SAFETY EDUCATION
All operators of powerboats and personal watercraft urged to take classes, regardless of age
In their continuing effort to help save lives, the United States Coast Guard Auxiliary recently passed a resolution urging state legislatures to require mandatory boating safety education, regardless of age.
The non-binding resolution, which was passed unanimously at the Auxiliary National Training Conference in St. Louis, supplements a resolution passed in 2003. That resolution suggested that boating safety education be required for anyone under the age of sixteen operating a power boat or personal watercraft.
The latest resolution cites continuing evidence that indicates approximately 80 percent of fatalities occur on boats whose operators have not received any form of boating safety education. Moreover, statistics indicate that the average age of someone involved in a boating fatality is around 38 years old, and thus, those states who require mandatory classes for younger boaters have seen little or no impact on their boating fatality statistics.
The majority of states who have some form of mandatory education tend to base the requirements on the operator's date of birth (i.e. anyone born after January 1, 1986 would be required to take a class). Anyone born before the statutory date is exempt from the mandatory class requirements. Furthermore, some states like California, still have no form of mandatory education requirement.
The Coast Guard Auxiliary urges all boaters, including sailors and paddle craft operators, to take a boating safety course approved by the National Association of State Boating Law Administrators.