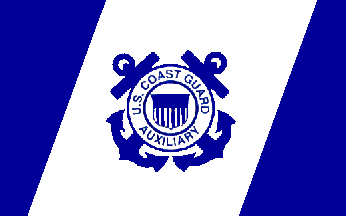 Boating Under The Influence (BUI)


It's A Different World On The Water
In the marine environment — motion, vibration, engine noise, sun, wind, and spray intensify the effect of alcohol and drugs. These "stressors" cause fatigue — and dramatically affect a boat operator's coordination, judgment, vision, and reaction time.

There's hidden danger too. Common prescription medications — like those for heart or blood pressure – could possibly have side effects that can be multiplied by environmental stressors. So Boating Under the Influence or BUI is a factor even for those who don't drink or use dangerous drugs. If you are unsure or have questions about your medications, contact your physician.

Levels of blood alcohol or medications that would have little impact on land can potentially cause a much greater degree of impairment for the operator of a boat.

That's one reason BUI is a clearly identified contributor to approximately 34 percent of fatal boating accidents.


How Can Boating Under The Influence Affect Me?

Your peripheral vision, night vision, focus, and ability to distinguish colors (particularly red and green) diminish.
Your inner ear can be disturbed, making it impossible to distinguish up from down if you fall in the water.
A physical sensation of warmth may make it easier to fall victim to hypothermia.
Your cognitive abilities and judgment deteriorate.
Your balance and coordination are impaired.
Your reaction time decreases.

A boat operator with a blood alcohol concentration (BAC) above 0.10 percent is estimated to be more than ten times as likely to die in a boating accident than a sober operator. Most states, and the federal government have a BAC limit of .08 percent.

It's ILLEGAL to operate a boat — any boat, from a canoe, rowboat, or PWC to the largest vessel — under the influence of alcohol or dangerous drugs. The U.S. Coast Guard and local law enforcement agencies cooperate to enforce stringent state and federal laws. Penalties can include large fines, suspension or revocation of boat operator privileges, and even jail terms.

If you are determined to be operating a vessel while intoxicated, the Coast Guard may board your vessel, arrest you, detain you, terminate your voyage until you are no longer intoxicated, or turn you over to state or local authorities.

Are You Under The Influence?
This table shows the approximate impact of alcohol consumption based on body weight. Remember that many factors — including waterborne stressors, prescription medications, and fatigue — can increase the effects. There is no "safe" threshold for operating a boat!


APPROXIMATE BLOOD ALCOHOL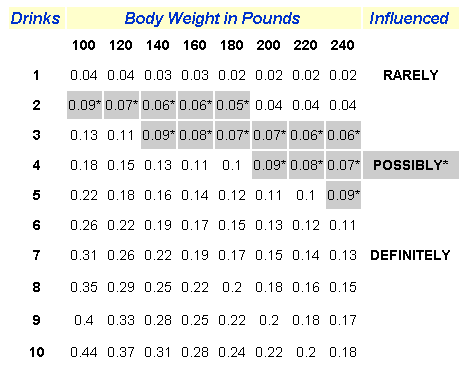 The asterisk ( * ) indicates estimated levels of impairment that could mean the individual is possibly influenced.
This table gives a guide to the average impact of alcohol consumption for the number of drinks that are consumed over a one-hour period.

Other Ways To Enjoy Boating

Consider having no alcohol aboard — intoxicated passengers are also at risk of injury and falls overboard.
Take other cool drinks, like sodas, water, iced tea, lemonade, or other non-alcoholic beverages.
Bring plenty of food and snacks.
Wear clothing that will keep you and your passengers cool in the summer, warm in the winter.
Limit your trip to avoid fatigue.